Electrical & Street Light
Street Lights:
Municipality mainly looks after the operation and maintenance of street lighting within the municipal area. At present, 2/3 days time is taken to replace the streetlight. However, the quality of service and illumination is not up to the satisfaction of the people. Due to non-availability of street phase, this service cannot be provided to too many areas.
Figure 05, Street Lights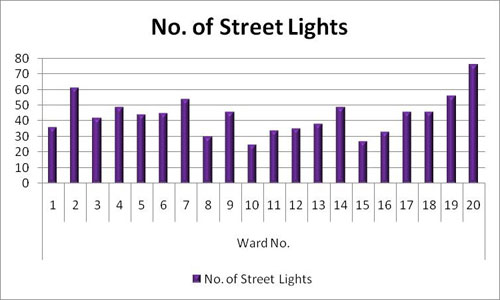 During the year under report the total No. of Street Lights as per schedule was 872 within Municipal Area. With an average 50% lights remaining un-burnt throughout the year and continuous non-burning of street lights particularly in slum areas, there is much leeway to be made up before a satisfactory level of maintenance of street lights can be achieved. Besides, the scheme for providing additional street lights which was conceived a couple of years ago has not so far been translated into reality, limited resources coupled with a perennial fund constraint just precludes the possibility of undertaking the schemes of additional street lights, though it is a long felt necessity. With an improved fund position it and when sanctioned by the Govt. in future, the Municipality has put this scheme on a priority list.
To identify the major issues relating to streetlights system, a stock of existing asset inventories was taken and compiled as per the following:
Asset category

Quantity / Capacity

Year of construction / commissioning

Physical condition / state of repairs

STEETS, STREET LIGHTS AND TRAFFIC MANAGEMENT

Street Lights

No. of poles 872

Percent of working lights