Water supply
The drinking water supply to the Town is getting adversely affected on account of drying up of Catchment sources situated more than 12 K.M. away from Kurseong due to deforestation. It is our belief that with the aforestation of Catchment sources the daily demand of the people can be fulfilled and the old decaying & leaking pipes of different sizes laid during British Regime have to be replaced with new ones and further modernize the distribution system. The daily demand of the potable water is about 8,40,000 gallons (20 gallons per head per day) but in the lean driest period from March to June the people are getting only 2,89,700 gallons per day, a horrifying shortage of about 5,50,250 gallons and the water is supplied in alternative days only. Hence, we need immediate restoration of Catchment sources with Forest areas, replacement of decaying supply pipes with new ones, laying new water supply lines with modern technology, construction of new water reservoirs at different places & implementation of water harvesting system for providing proper civic amenities to the people of Kurseong & adjoining areas. Kurseong has the unique system of management of water supply. The storage and augmentation of water is the responsibility of the P.H.E. Department which is under the control of D.G.H.C., the entire distribution system is managed by the Municipality. Due to the age old reservoirs and faulty distribution system the Municipality is facing acute problems in supply of water to the tax payers. During the dry seasons, at times, distribution of water has to be made to the public through tankers and trucks. It is necessary to re-vamp the existing water reservoirs and water distribution systems in order to provide efficient service to the public.
Objectives:
The main objectives of this paper are...
To highlight the problems in providing potable drinking water to the residents of Kurseong town and neighboring rural areas.
To work out and suggest measures to ameliorate such problems to the possible extent with approximate cost appreciation to implanting such measures.
The present position of providing potable water to the residents of Kurseong town:
Kurseong town has quite a number of perennial and semi perennial sources of water in the form of hilly streams and Nullahs. Out of such sources of water from the following streams which are also known as Nullahs and kholas are impounded with small setting tanks and reservoirs for storage of water for supply to Kurseong town. Such impounded water are conveyed to the main storage tanks located at convenient places for equitable distribution to the residents of various wards under this Municipality with network of 2" approximate diameters of connection pipes.
Sources of water for feeding Central Water Reservoir
| | | | |
| --- | --- | --- | --- |
| Sl. No. | Sources of Perennial Khora and Jhoras | Location | Feeding Reservoirs |
| 1 | DareyKhola | Near Bagora | Central Water Reservoir at Durpin (Dowhill Forest  Area) |
| 2 | Baluwakhani Khola (8th Mile) | Near Sonada | Eagles Craig Central Reservoir |
| 3 | Aringalay Khola | Near Dilaram | St. Helens Central Reservoir |
| 4 | Sepoydhura Khola | Near Sepoydhura | St. Helens Central Reservoir |
| 5 | Whistle Khola | Near St. Mary Hills | Circular Reservoir near Church(St. Helen Area) |
| 6 | Babu Khola | Near Gundrukay Busty | C.W.R. at Durpin(Dow Hill Forest area) |
| 7 | Pahwa Khola | Near Deorali Busty | C.W.R. at Victoria |
| 8 | Chittray Khola | Near Chittray Busty | C.W.R. at Victoria ( Dowhill Forest) |
| 9 | Amaa Khola | Near Khundrukey Busty | C.W.R. at Durpin |
| 10 | Thotay Khola | Near Tung | Eagles Craig Central Reservoir |
Storage Facilities and capacities of the Storage Tanks
The following are the Primary Storage Tanks for the potable water from where distributions is made to the secondary storage tanks located at cardinal spots for distribution to the consumer:-
Sl. No.

Location

Capacity

Type

(i)

R.C. Storage Tank at Dow Hill Forest Area (Durpin) This is always kept in reserve for maintening supply during emergencies.

45,00,000 Gallon

Rectangular

(ii)

Central Water Reservoir near Victoria School (with Filter and Chlorination Devices).

R.C.C. Tank
45,000 Gallon
20,000 Gallon

Circular
Rectangular (RCC)

(iii)

Central Water Reservoir (with Filter and Chlorination Devices)                                        Near St. Helen's Convent.

R.C.C. Tank
88,000 Gallon
20,000 Gallon

Rectangular
Circular (RCC)

(iv)

Central Water Reservoir(with Filter and Chlorination Devices)                                     
At Eagles Craig.

R.C.C. Circular
45,000 Gallon
50,000 Gallon

Circular
Circular (RCC)

(v)

Central Reservoir near Municipality Office for tapping unfiltered water, water from various springs Raw Water for use in washing, lavindering Toilets and fire hydrants.

R.C.C. Tank
20,000 Gallon
20,000 Gallon
20,000 Gallon

Rectangular
Rectangular
Rectangular (RCC)

(vi)

Central Water Reservoir at Dowhill near Post Office (without filter and Chlorination devices).

R.C.C. Tank
10,000 Gallon

Rectangular (RCC).
Availability and distribution of Water:
As Kurseong has the natural sloped areas the gravity flow system has been adopted for channeling and distribution of water to different places. Kurseong Municipality has no tube wells nor any pumping stations and all the water is directed to the primary reservoirs through different sizes of G.I. Pipe Lines from their respective natural springs sources located in the dense forest areas for distances from 2 to 20 K.M. from Kurseong after preliminary sedimentation of filtration. The day to day requirement of potable water per day/per head is about 20 gallons to be comfortable. This can be made available to the public during the rainy, autumn and winter seasons. But the water scarcity is strongly felt during the three summer months as detailed below:-
| | |
| --- | --- |
| Total storage facility during the summer months | 3,05,000 Gal./Per Day |
| Less 5% due to water (loss) | (-) 15,250 Gal. /Per Day |
| Net available    | 2,89,750 Gal./Per Day |
| Present Population of Kurseong Town | 40,172 Nos |
| Add Floating Population Per Day | (+) 2,000 Nos. |
| Total | 42,172 Nos. |
| Average Water supply per day | 2,89,750 Gal. |
| Population served | 42,000 |
| For one unit of population | 6.90 Gallons per day per head |
| Present demand per day | 8,40,000 Gallons (42,000 population @20Gal./per head/ per day) |
| Actual supply available  Per day during the dry Season. | 2,89,750 Gallons |
| Shortfall during dry Period | 5,50,250 Gallons |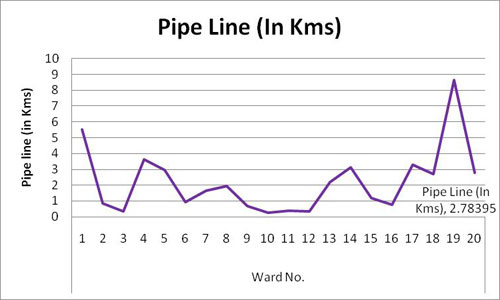 Water requirement projection
The water supply requirement for 2025 of Kurseong Municipality has also been estimated assuming the quantity of water required as 135 liters per capita per day, as per UDPFI Guideline and considering the increasing demand for water in the Municipal area.
Aspect

Size of town

Small
(<50,000)

Medium
(>50,000)

Large & Metro
(>10 Lakh)

Domestic Absolute Min.

70 lpcd

70-100 lpcd

135 lpcd, it can be reduced up to 70 lpcd

Domestic Desirable

100 lpcd

135-150 lpcd

150-200 lpcd
Figure 01, Water Requirement Projection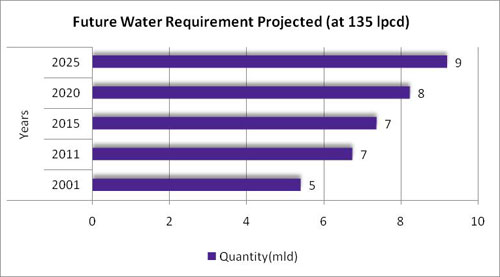 The existing capacities of all the above reservoirs are inadequate to cater to the present demand due to increase in population in the command areas and the supply is done in alternative days in most of the areas, especially during the dry season. In view of this scarcity, water is brought from the jhoras in trucks, jeeps, water tankers for supplies to house holds, hotels, restaurants, commercial establishments and other during water scarcity months. Some of the new commercial complexes & Dormitory and Housing complexes are under construction in the area of Kurseong Municipality, which will also require adequate supply of potable water. It is therefore imperative and necessary to augment the numbers of water reservoirs where required remodeling and realigning the water supply pipe lines in the Town area & also those pipe lines from catchment areas to central water reservoir which were constructed during pre-independence days and replace the old and ineffective ones with new ones if adequate supply of water is to be maintained. The Kurseong Town has no provisions of specified water reservoirs for fire fighting or any fire fighting devices in order to remain prepared against similar situations which devastated the Kurseong Town during the fire havoc in the year 1986.
Water Supply Projects:
The water supply project in Kurseong Municipality needs urgent improvement. The age-old distribution system of water supply needs to be revamped. In addition improvement of the catchment areas, existing water reservoirs and addition of water reservoirs in some places are urgently required in order to maintain the water supply to Kurseong town. For this a master project was prepared by the Municipality and submitted to the Hon'ble Minister in Charge, Municipal Affairs Department and related Deptt. several times. But no fund has been sanctioned for this purpose till date. The Supply of water from the sources situated within the forest areas up to the Central Reservoirs located within the Kurseong Town is being maintained by the P.H.E. Deptt. and from these Central Reservoirs Water is being distributed to the public by Kurseong Municipality. The main feeder conduit pipes from the source to the Reservoir are in dilapidated conditions, which were laid nearly 30 years ago. But due to financial crunch the P.H.E. Deptt. has not been able to maintain these main conduits, which is causing profuse leakage of water in the way, resulting in inadequate supply of water to the reservoirs. Moreover the condition of the distribution system within the town area is not good which need replacement and renovation.
FUTURE PLAN
The future plans have to be taken up immediately to cope with the situation and to eliminate the crisis of water supply to fulfill the individual demand, we have prepared few schemes to augment supply of potable water required for the people of Kurseong Municipality area from the present supply of 6.90 Gallons per head per day to 20 Gallons per head per day even during the months of dry seasons taking into consideration the likely anticipated population of Kurseong by 2011 A.D. At present the rain water conservation technique are being followed in hilly terrain adopting by different methods during rainy season:
Water harvesting method on roof top.
Ground Trench preservation method.
Table IMF-1: Asset inventory and condition assessment of key municipal services
Asset category

Quantity / Capacity

Year of construction / commissioning

Physical condition / state of repairs

WATER SUPPLY

Service reservoir

Capacity

Year of Construction

Structural condition

R.C. Storage Tank at Dow Hill Forest Area (Durpin)

45,00,000 Gallon

Central Water Reservoir (with Filter and Chlorination Devices).

5 Nos. with total storage facility during the summer months
3,05,000 Gal./Per Day

No. of spot sources (Natural Catchment source)

27 Nos.

Pumping capacity

No of Pumps:- Nos.

Stand by if any:- No

Condition: actual vs. rated capacity

Out of Order last ten yrs.

Distribution network

Length according diameter and material

Year of laying

Present condition: encrustation if an

Condition of joints and leakage

Stand posts

Nil

 Year of commissioning

Condition

Hand pumps

Nil

Year of commissioning

Condition

Shallow tube well
Deep tube well

Good